You've no doubt witnessed the growing trend in office greenery over the past few years. Since 2020, it's become nothing short of a must-have for any modern office. Once you start to realise the vast associated benefits, you'll be stocking up on greenery to transform your workspace into a beautiful paradise!
For those that aren't too au fait with the term biophilia, it simply highlights the innate human tendency to seek connections with nature. Long hours spent in an office with no exposure to the external elements can wreak havoc on our mental and physical health. Non-conducive to wellbeing, creativity, and productivity.
That's why biophilia is reshaping the way that we think about and interact with our environments.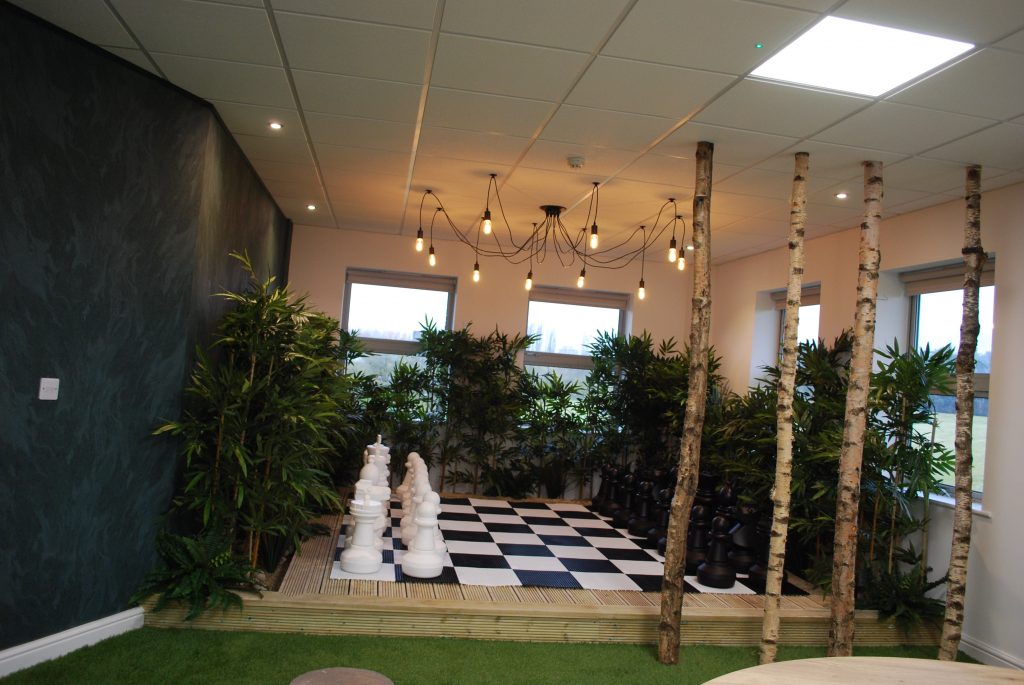 Benefits of biophilia
The benefits of biophilia in an office space are immense. As modern businesses focus on environments that support good mental health, biophilia has earned its rightful place.
Corporate horticulturists, PlantPlan tells us that employee wellbeing increases by 13% and productivity by 8% when biophilic elements are present in an office space. With that comes reduced absenteeism, greater engagement and more overall job satisfaction.
Think meeting rooms with beautiful greenery, or collaboration areas featuring bursts of coloured plants! Desks can be brought to life when a piece of the outdoors is close to hand, not to mention the improvements in air quality that do wonders for physical health.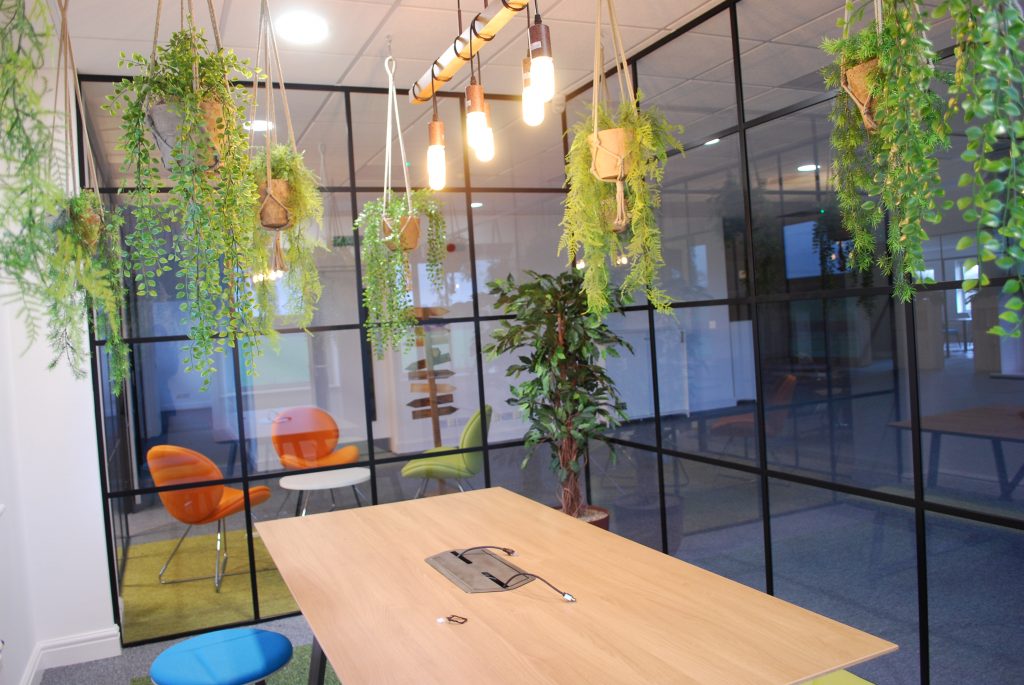 Living walls
Adding a living wall to your workspace can transform your working environment in more ways than one. Needless to say, they look breath taking and have an immediate calming effect on anyone in close proximity. (And no, you don't have to go all Google Head Office with back-to-back green walls to be impactful, less is often more!)
Living walls purify air, regulate room temperature, and even serve as an effective sound barrier in a busy office. No longer do you require partitions and dividers when green walls can provide the same service with added benefits!
You can maximise your working space with style, substance and texture while enhancing both the appearance and the health of your space.
Metirium are currently in the throes of an office fit out for the Stonegate offices in Hull where the bathrooms are having a living wall. Suffice to say, when it's complete, numerous bathroom breaks are highly anticipated!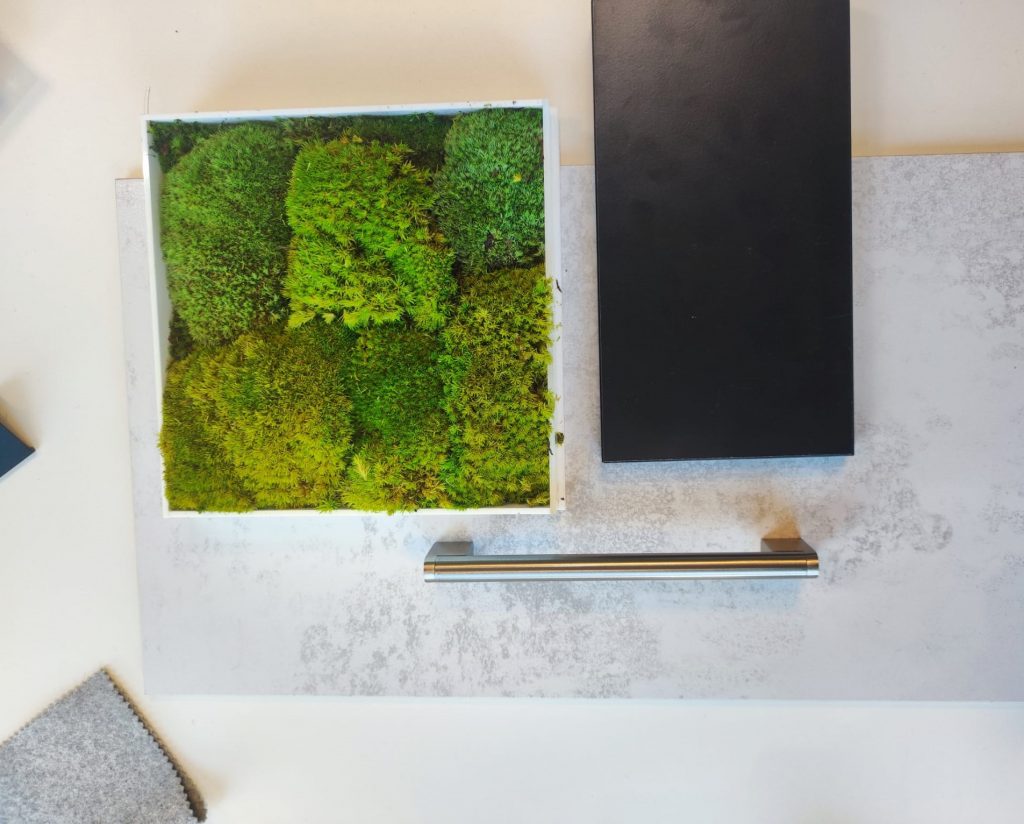 Design and brand
With natural materials and colours, rich textures and living plants, the most tired-looking office design can start to burst with health. A thoughtfully designed and attractive workspace that enhances natural light and bursts with biophilia demonstrates your business brand at its best.
Not only this, it also sends a powerful message about the care you possess for your workforce and your environmental credibility. Employees will thank you for providing an impeccably designed workspace that goes beyond a mere aesthetic and supports their wellbeing. Visitors will be visually impressed from the off, and your clients will respect you for your dedicated efforts.
Green offices are innovative and contemporary, and any modern office should consider the vast benefits that they can bring to a business.
So, the real question is, why wouldn't you?
Are you considering an office fit out?
If you're keen to bring your office space to life and transform your working environment, we'd be more than happy to assist you in the design and creation. Fancy a living wall? Yep, we've got you covered!
Metirium turns office spaces into something magical…something cool, unique and quirky, that reflects the culture of your organisation. We get to know your personality, and values and beliefs to design an office that you can be proud of.
If you want the WOW factor, waste no time…call us on 0113 257 7777