Just as we've all adapted to modern flexible offices with individualised layouts and breakout areas, we're plunged into the next…big…thing.
The workplace is getting people fit!
Yes! You heard right. Workplaces are evolving to make fitness easy and accessible for workers.
The trials of fitness
When you consider that people spend an average of seven hours a day in an office, it's understandable why visiting a gym isn't high on the priority list. No one wants to spend their precious weekends slogging away on a treadmill or pounding the rainy streets of Britain!
Businesses are doing more and more to prioritise the wellbeing of their staff, but there's a high cost to pay for lack of movement which can be detrimental to both mental and physical being. Hours in front of a computer screen can lead to a number of health complications.
That's why the modern office space is moving to the next level. Bring the gym to work!
Riva Home
We recently completed a fit out for Riva Home's new head office in Leeds. Justin Green, Managing Director advised us that he wanted to offer his employees a lifestyle rather than a feeling of simply going to work.
Implementing a full office gym was the perfect solution. With an opportunity to visit their inhouse gym during the working day, staff can attend to their fitness needs and increase both wellbeing and productivity levels. (There's also likely to be a vast surge in applications to work for Riva as a result!)
There's no doubt that their offices now have the wow factor from the moment you walk in the door which is why Metirium was chosen for the project. Having implemented activity spaces within our own offices for the same reasons, we matched Riva's passion and were able to hold their hand and simplify the project in its entirety.
They now have an aesthetically pleasing office space and a happy, healthy and productive workforce!
Work and move!
Playful activity areas featuring table tennis tables (or table football as we have in our office!) or giant board games can be a great strategy for keeping staff active and engaged. It's also something that Metirium has a lot of experience in! We're all about downtime at work with a good, healthy injection of fun!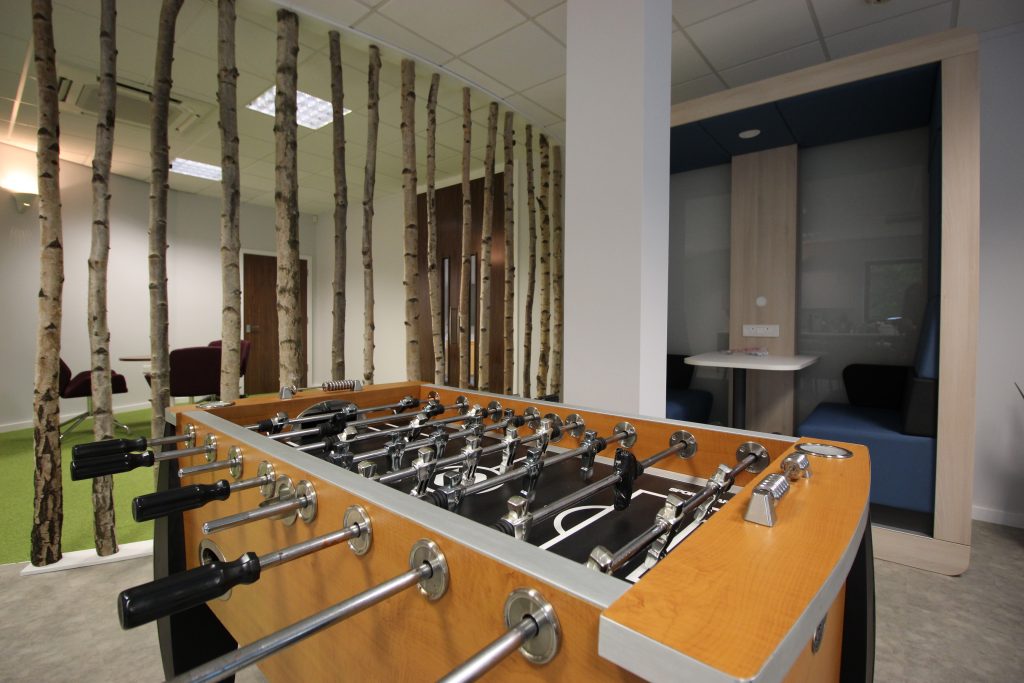 But more contemporary offices are delving into actual fitness with innovative methods to work and move at the same time!
You've possibly heard of balance stools by now, particularly as they're growing in popularity. They allow a user to actively sit and move more which is great for circulation and flexibility.
Under-desk bikes allow employees to cycle themselves healthy while they're working. But they're even smarter, exercising keeps the brain active which allows creativity to reach its full potential!
And then there's the desk treadmill! Reach 10,000 steps a day by walking at a leisurely pace and speed up when you're brainstorming! Scientifically proven benefits include improved work performance and peer interaction as an added extra!
Calories burned; mind rejuvenated and work completed – that's multitasking at its best!
Looking for a fitter office that oozes the wow factor?
Metirium can turn any office space into something out of the norm. Something that's unique, cool and reflects your company's culture. It's a leading reason why businesses choose us, for our ability to gain insight into your working environment and analyse what will work best for you.
Here at Metirium, we take your company's personality, values and beliefs and create a design that offers your team a sense of pride and becomes an attractive selling point to customers and new recruits. Please get in touch and we'll be delighted to chat through your office fit out plans.