Every modern office needs a breakout area! An area that's separated from the more formal working area where employees can take some valuable time out. Modern breakout areas are a far cry from the hectic common rooms of old, they're designed to offer you and your team a little bit of sanctuary during a hectic day.
Do I really need a breakout area?
The simple answer is, yes!
Breakout areas are becoming an increasingly popular aspect of any modern office design due to the vast benefits that they carry. Over the last few years, we've shifted from a 'work hard' pattern of thinking to 'work smart.' Don't panic, by no means does that mean that work should go on a back burner, but it does mean that you'll get more from a team of workers that you've invested in.
Providing an appropriate space to recalibrate – away from the desk – is priceless, and as a business, you're looking at greater ROI.
When over-worked employees remain at their desks throughout lunches and breaktimes on a regular basis, they're going to become jaded about their job pretty quickly. Time away from a desk promises improved wellbeing, increased productivity and overall, greater job satisfaction.
Breakout areas don't have to serve a specific purpose, and that's the very joy of them! Designed to offer an experiential space that staff can either relax in or even undertake informal meetings, they're entirely flexible in nature.
Choose a suitable space
The first step is to consider the area that you have available and what can be allocated to the perfect breakout space.
Regardless of the size and shape of your office layout, your breakout area is based on the nature of your work and the goals you aim to achieve. That said, a well-designed breakout area gives you the freedom to use the space for a multitude of requirements; informal team meetings, working lunches, some much-needed interaction or a relaxing lunch break!
Consider your workforce and their varying requirements. Chances are, you have a range of different personalities, so your space should ultimately fit around their needs. Introverted characters might greatly benefit from a space to kick back and read a book, for example, while the more extrovert of the team may choose to interact over lunch.
Dividing your space accordingly is the key to satisfying your workforce. It demonstrates that you're attending to their job satisfaction and overall working environment.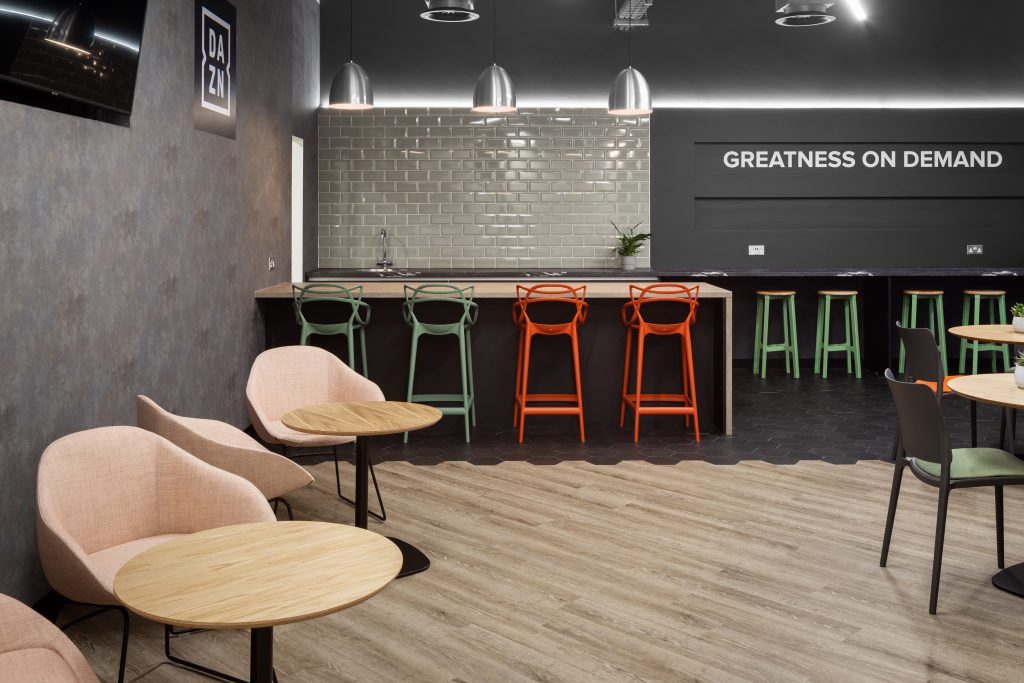 Invest in flexible furniture
Based on your requirements, you should choose office furniture that best facilitates the needs of your workforce. Remember, your furniture choices are vastly important as that's what allows for flexibility of use.
We recommend a combination of benched seating for team gatherings, a comfortable sofa and a few stools that can be moved around accordingly. (We're loving drumstools at the moment!) Break the space into smaller areas so that your staff have a good mix of options.
There's one thing that's a certainty; your aim is to promote comfort, so comfortable seating such as sofas and armchairs are an absolute must. If you really want to go all out (and you have the space), you can even incorporate bespoke banquette seating to compliment your workspace design.
High footfalls and volume of use means that functional furniture is key, so we recommend opting for durability over budget. It's sometimes tempting to go for mass-produced furniture that comes with a lower price tag, but it's unlikely to offer the longevity that comes with timeless wood furniture, for example.
When you're planning your fitout, we highly recommend that you allocate part of your budget towards bespoke furniture. That way, you can expect greater longevity, complete uniqueness, and your tailored pieces will fit perfectly into those awkward gaps and spaces!
Flexibility and movement
Flexible workspaces are super easy to design and can be restructured with ease. Choosing flexible furniture pieces like benches, tables and stools means that they can be easily manoeuvred when the need arises. No big refurbs. No construction work. Need to relocate? No problem, it can travel with you!
With the modern focus on healthy workspaces, breakout area can be a great place to encourage movement and activity. If fitting for your particular workforce, you might want to incorporate a pool table or table-tennis table. Did you see our giant chess board for healthcare providers, Innova? Connect 4, anyone?
A bit of movement does your workforce all the good in the world, particularly as the late afternoon slump takes effect. Encouraging them to take part in an activity is a positive way of re-energising and feeding inner creativity.
What makes a breakout space even more exciting, is that you can be as bold and colourful with your interior design as you like, more so than any other area of the workspace! Opt for bright colours that energise and uplift, you'll soon notice the rise in productivity levels!
We can help!
Metirium has worked with a wide range of businesses and organisations to create cutting-edge workspaces in need of a transformation. When it comes to an office fitout, we're able to provide a CAT A and CAT B full design and build service, project management, layout design, interior design and specification, and furniture.
Thinking of incorporating a breakout area? Then our work here is done! Please get in touch with our friendly team to discuss how we can help bring your plans to fruition.